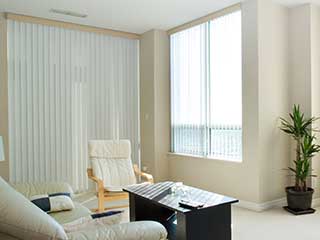 Horizontal covers with vanes running left and right are the most common type, but there are some situations where they don't work as well. The panels should always cross the window at its narrowest dimension. This means that vertical blinds are better for long windows and glass doors. Our selection of Sunnyvale vertical blinds come in a wide variety of designs and structures, and we custom design each set for you! Read on, and treat yourself to some of the best and most affordable window coverings in the state.
Custom Blinds Design In Sunnyvale
Every order from Sunnyvale Blinds & Shade comes after a free consultation visit from our design experts. We'll come out to any address in the Sunnyvale area or nearby and give you an estimate on whatever design, decoration scheme, and structure you want for your new vertical blinds or other window treatments. Once we've finished your blinds, we provide follow up delivery and installation services. It all comes bundled together as part of our affordable service package! Vertical blinds installation can be an intensive process if you're getting a larger set with tracks and rollers. Our team has been doing this for a long time, though, and we can make sure it's as quick and convenient as possible.
Residential Blinds For Windows And Doorways
Since any long, low window can use them, vertical blinds for windows in bedrooms, kitchens, and living rooms are common choices. You can also use vertical blinds for French doors, or for sliding glass or screen doors leading onto porches or balconies. Just like wall-length windows, these entrances tend to be a lot wider than their height, and a glass pane that size should have protection! Choosing some colorful vinyl or stately wood blinds adds a comfortable aesthetic to a household window. If you're worried about moisture damage, try aluminum. You can also add curtains, valences, or other decorative features to enhance the domestic atmosphere.
Vertical Blinds For Office Windows in Sunnyvale
Many workplaces have long, wall-length windows that vertical blinds are the best option to cover. Offices, computer labs, and waiting rooms or lobbies, in particular, can get a lot of benefit from this type of window treatment. Since vertical blinds open and close sideways, you can keep sensitive equipment and benches shaded while letting the sunshine in elsewhere. Perfect for taking advantage of sunny days without letting them cause annoyances!
Great Motorized Vertical Blinds
Automatic vertical blinds are a huge time saver, and in the long run, they can even be a money saver. Remote-controlled openers make your windows easier to regulate, especially in a large house or workplace. If you get one of our motorized vertical blinds systems, you won't even need to be around to adjust the vanes yourself! With a smart sensor system, you can have us program your blinds to react to changing Sunnyvale weather and daylight on their own. You'll lower your AC and heating bills over time by removing human error, and might even prevent some furniture and wallpaper fading. The greatest benefit of smart motorized vertical blinds is the peace of mind of knowing you don't have to worry about them!
Best Vertical Blinds Near You
Live or work in the Sunnyvale region or somewhere close by? Then we've got a large selection of vertical blinds to suit any style or budget. You can pick and choose every aspect, from the materials to the method of operation. Vertical blinds with curtains, shades, motors, or any other extra features you could want we can custom-make for your business or home. Call today, and we can schedule your free consultation visit at your convenience!