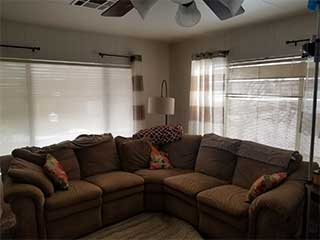 These are almost a halfway point between rigid framed blinds and loose fabric shades. Venetian blinds for windows and glass doors are a happy medium between heavy and light, and very easy to install, adjust, and replace if needed. Here at Sunnyvale Blinds & Shade, we design variations of these flexible window treatments for every individual customer. Venetian blinds are quicker, more convenient, and cheaper to produce than ever before!
Custom Venetian Blinds For Sunnyvale And Nearby
Our custom design process starts with a visit to the given address, including residential and business establishments. This initial appointment is completely free and gives you a chance to get our professional feedback and advice with quotes. After we've finished creating your new Venetian blinds to spec, our company also provides delivery and installation services. This includes mounting, testing, and wiring and programming for any automatic features. Covering your windows in that airy European style is easy and affordable with Venetian blinds, and doesn't even take long!
Fitting The Venetian Blinds To The Window
The size of the vanes and length of the support strings are just the beginning of the structural concerns we take into account. If your window or doorway is longer than tall, our consultants will probably recommend vertical Venetian blinds. This version fits long panes better, and also gives you more control over light levels with their sideways opening. The room you need to put the new Venetian blinds in also makes a difference. For one thing, we need to take the decoration scheme into account to make the new blinds fit in. For another, the amount of protection you want the room to have matters when choosing panel width and thickness. Do you need blackout Venetian blinds or just light shading ones? Both are doable!
Motorized Or Classic Venetian Blinds?
One string to raise and lower the blinds, one string to spin the panels open and closed. That's how Venetian blinds have worked for most of history, and it remains an option for Sunnyvale residents today. If you'd rather save yourself some trouble throughout the day, or if you're worried about child safety with those dangling strings, there are also electric sets. Motorized Venetian blinds are risk-free for pets and children, and more convenient for you to adjust thanks to the wonders of remote control. Since motorized Venetian-style blinds are lightweight, the motors don't need to be big or expensive, and they tend to last longer than those of other powered blinds. Our installation service for automatic blinds includes wiring and remote control or smart opener programming.
Wood, Metal, Or Vinyl Venetian Blinds?
We can make your blinds' panels out of wood, vinyl, metal, and several other options. Aluminum Venetian blinds are the best choice if you need something moisture resistant and extra light. If you want the elegance of wooden blinds without the weight and price issues, our faux-wood blinds vanes will do the trick. Thick or thin, plain gray or shiny white, Venetian blinds can look like just about anything depending on the materials and colors you pick. Ask our consultants about sheer fabric coverings, padded lining, and other embellishments at will.
Start The Process Today
Sunnyvale Blinds & Shade is ready and waiting to help you choose your new window coverings with a free estimate and thorough in-person consultation (free of charge). Our great selection of Venetian blinds has plenty of choices for both residential and commercial properties. Call us today from anywhere around the Sunnyvale part of the bay area, and we can get started on your new Venetian blinds!