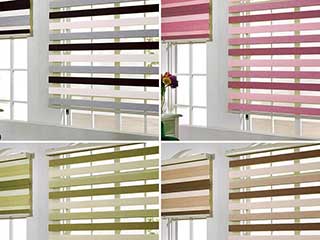 Wood blinds have been one of the most popular choices for giving an elegant aesthetic to any room for many years. However, if you've resisted the temptation due to cost, or the necessary high maintenance, Sunnyvale Blinds & Shade has a solution for you! Faux wooden window treatments deliver the same gorgeous look, but without some of the problems, some may have with real timber. You can get the best of both style and ease of use all in one thanks to faux wood blinds! Discover more about them by reading further:
Real Vs. Faux Wood Blinds?
The choice between real or faux wooden window blinds comes down to personal preference, and cost. Real wood blinds are beautiful with their unique grains, but they also require careful treatment. Wood is susceptible to moisture and can be badly damaged by it. This is of particular concern in places with a lot of humidity. To avoid swelling and other issues, wooden blinds require treatment to protect against moisture. Real wood window coverings need cleaning with specific products to keep them in good shape as well. Our waterproof faux wooden blinds aren't harmed by any moisture or otherwise, and clean easily too. These blinds offer a more affordable solution than real wooden ones, as well. Faux wood blinds can offer you all the décor benefits without the maintenance downsides.
Sunnyvale Kitchens Deserve Faux Wood Blinds
Your kitchen may be a danger zone of splashes. Anything from water to oil and juicy bits of food. But that doesn't mean it can't have gorgeous window coverings! Choosing to go for faux wood window blinds is perfect for kitchens due to their sturdiness against moisture. No steam from cooking, accidental spattering, or other moisture sources will cause them any harm. And, you can wipe your imitation wood blinds down after to clean them up without hassle. Our waterproof faux wood treatments will make your kitchen look homely and welcoming while being able to stand up to whatever you throw at them.
We Custom Make Window Treatments for You
What does custom made blinds mean for you? It means that you'll know with certainty that your new faux wood blinds will fit each window in your home exactly because they were created according to their measurements. No unsightly gaps or cracks around the outside of the blinds, just a smooth and excellent fit. Our Sunnyvale faux wood blinds specialists will help you find the material you'd like them to be made out of as well, such as vinyl or PVC. You get to pick the imitation wood staining that complements the room best too!
Free Consultations for Sunnyvale Customers
Our professionals are happy to sit down with you and consult on all the options to help you pick the best style of window treatments for your home! Whether you like the look of faux wood blinds or want to learn about other types, we'll happily walk you through it. We offer free estimates as well, so you'll know exactly what you're getting and for what price. Reach out to us today, and get started on sprucing up your home in no time! From faux wood blinds to a variety of roller or Roman shades, our selection houses all sorts of window treatments for all types of interior décor. Customize the option that suits you best!