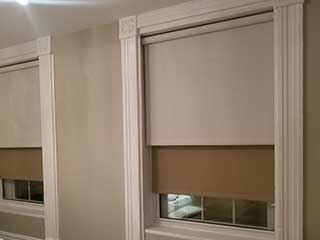 From turning your living room into your very own movie theater to getting a better night's sleep, blackout blinds offer a lot of benefits! Sunnyvale Blinds & Shade is here to provide the finest quality blackout window coverings for your needs and will help you find the right fit with our free consultation. With our experts' assistance, you'll discover the perfect style to suit your needs. Your new blackout blinds will perfectly fit your windows too, thanks to being custom made by us. No gaps around the outside, which means perfect darkness as soon as you need it.
Sunnyvale's Most Reliable Motorized Blackout Blinds
On top of providing your home with assured privacy and comfort, your blackout blinds can also push your home into the future thanks to motorization! Motorized blackout window treatments mean that you can use a remote control, wall switch, or an app on a smart device to operate your blinds with no trouble. With the app, you can connect the motorized blackout blinds to your smart home system, then tell it how much or little light you want according to your schedule. From setting opening and closing timers to automatically adjusting according to brightness levels. Let your motorized blackout blinds take care of everything for you! Even better, window treatments that change their position throughout the day may deter criminals, who take it to mean someone's home, even if you're away.
Blackout Blinds for Office Windows
Offices need to be able to plunge a room into darkness when needed for a presentation, or assuredly keep out glare so it doesn't create distractions on monitors. Our Sunnyvale professionals can help with blackout blinds! You can rest assured that you'll be able to view videos and PowerPoints without trouble due to the thorough darkness, and no light will creep in to hit any screens. They also assure privacy for meetings, which make them a great fit for boardrooms!
Cover Skylights and Sliding Glass Doors with Blackout Blinds
While skylights look gorgeous and can create a great atmosphere, it can also be too much to have sunlight pouring through them without any regulation. That's where our blackout blinds for skylights come in! You'll be in control of how much or little light comes in, which can go a long way in reducing energy spending and protecting furniture. Direct sunlight will raise the temperature inside, which will have you running the AC when you don't really need to! Sun bleaching will occur to furniture that sits in the sun too often for too long as well, so it's best to be safe. Blackout window treatments for sliding glass doors are also available to help reduce how much sun streams inside.
Blackout Blinds for Your Bedrooms
Treat the bedrooms in your Sunnyvale home with blackout blinds, and make sure everyone gets a great night's sleep! Nurseries in particular benefit from these room darkening window treatments, as it'll help keep the baby asleep no matter what time of the day it is. Have a child that's sensitive to the lights of cars driving by outside? These blackout window coverings will take care of that, no problem. As for yourself, whether you enjoy naps, or need to sleep during the day due to late shifts, make sure you can with our excellent blackout blinds! Give us a call to arrange a free estimate at any local Bay Area city. Sunnyvale Blinds & Shade is here to help you find the best blinds for your window covering needs.