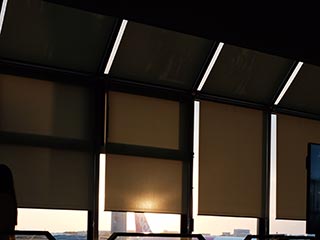 Your property's decor and energy efficiency will be much improved when you install motorized window shades. Lutron's range of products is highly developed to provide the best shade systems in the industry. You'll find an enormous range of products that will satisfy every design requirement. This applies whether you have a business or a residence that requires motorized shades because Lutron products adapt to any setting. The sheer flexibility of these automatic window coverings is staggering. WiFi connectivity? Check. Remote controls? Check. A huge range of styles and materials, custom-built to your specifications? Check. To make sure you get the most out of your new window coverings, we offer in-person consultations. Get a free estimate from the Sunnyvale motorized Lutron shade installers!
Motorized Shades - Sheer and Blackout
Installing motorized shades at your property is a great time to upgrade the aesthetics. Because Lutron shades use a huge range of high-quality materials, you have an amazing choice of different styles. Choose between sheer materials that diffuse light around a room. These are great for living rooms and kitchens, where you might want to create a warm ambiance. The alternative is blackout shades, which cut all light out. That's perfect for presentation rooms in an office, or for bedrooms at home. All of these materials come with a huge selection of colors and designs, so you can create exactly what you want for your home or business premises.
Sunnyvale's Best Lutron Shades Installers
New coverings and shades are a perfect upgrade for any property, but you need to know how to get the best result. Our team offers a free consultation on Lutron motorized shades in the Sunnyvale area, which means you get a personalized visit from our experts. This is the perfect opportunity to explore our entire range of Lutron shade designs, along with free estimates on your made-to-measure window coverings. Contact us today to arrange a time that suits you!