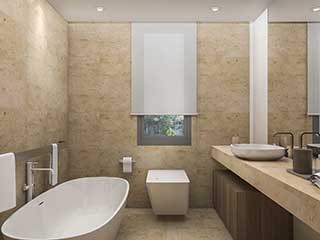 Some window covering styles can be large and showy, both taking up space and drawing attention from the décor of the room. If you're looking for something compact and more subtle, roller shades make for a great choice. These roller window covers can suit anyone wanting to save space. They're perfect for apartments, offices, and houses. Any room where you want a simple way to control sunlight with a wide range of design options available. Sunnyvale Blinds & Shade manufactures all roller shades made-to-measure (we make them here in the US too!). So you can easily customize a shading solution that perfectly covers the entire window and lets no sunlight stream in through the sides.
Sheer Roller Window Covers – Beauty and Convenience
Sheer roller window coverings make a lovely addition to the home, especially for any areas where you want to impress and have great lighting. Their airy and light appearance makes for a warm aesthetic, and the ability to allow in a soft, natural light through them creates a wonderful atmosphere. Sheer roller shades do more than that, however! Their filtering of sunlight comes with additional benefits, such as reducing how much your home heats from direct sunlight, and also protecting furniture from discoloration. Rather than risk sun bleaching, or wasted energy, get sheer roller shades for any Sunnyvale home or business and elevate your décor. These semi-transparent window covers let you make the most out of sunlight without the risks of UV rays.
Blackout Roller Shades On Sunnyvale Windows
Want to completely eliminate sunlight? Blackout roller shades have many uses, both in the home and in commercial properties as well. For the home, blackout roller shades can provide complete darkness whenever needed. It's useful for living rooms to allow for easy TV watching, and bedrooms to assure restful sleep. As for businesses, there it's important to minimize computer screen glare, and allow for privacy. If there's a meeting room or a personal office that requires confidentiality at times, blackout roller shades give you an excellent addition. Combine them with the motorized features and you just push a button or use your phone to create privacy in seconds. The made-to-measure part is important here. It ensures your blackout roller shades don't neglect to fully cover the window/door/skylight in question.
Motorized Roller Shades With Wi-Fi Connectivity
Being able to open or close your window coverings with the press of a button is extremely convenient. Our custom motorized roller shades are compatible with remote controls, wall sensors, and any smart device thanks to the Wi-Fi compatibility. Not only does this simplify your schedule when in your home, but it allows you to adjust your motorized roller shades even while away from them. Consistently moving window treatments give the impression that someone is home at all times. This then increases safety and can serve as a deterrent for burglars. Motorized roller shades can also help Sunnyvale properties to cut back on energy costs. How? By reducing the amount of direct sunlight allowed inside.
Custom Roller Shades For Sunnyvale and Nearby Areas
Window coverings can make a huge difference for the look of your interior décor. So make sure you're getting the best shading solution for your needs as well as your budget! Sunnyvale Blinds & Shade experts are happy to walk you through the various steps to find the right style of window shades for your property. From roller shades to any of our many other types of blinds and window treatments. Get in touch with us to set up a free consultation at your local address. If you're around this side of the Bay Area, we're happy to send a professional blinds installer over to give you a free estimate.