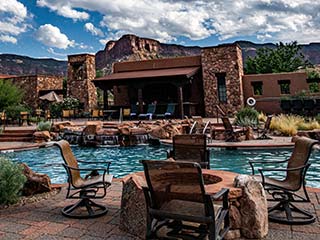 Some good patio shades will make your outdoor property more private, more comfortable, and safer for the furniture and flooring. With motorized patio covers in your Sunnyvale backyard space or other sections, you can enjoy complete protection 24/7. Motorized awnings, as well as pergola canopies and freestanding outdoor shades, can all provide benefits that make them worth considering. With free quotes on custom-made motorized outdoor shading solutions, you can find a lot of possible options when you consult with us.
Why You Need Patio Covers?
Sunlight is one of the main reasons people go outside onto patios, but it's also one of the hazards of owning one. Strong sunlight hurting your eyes and burning your skin is a problem. Long-term exposure can also bleach your patio flooring and wreak absolute havoc on any outdoor furniture, and rain will wreck it even worse. Conventional decks and patios benefit from awnings and sail shades. Larger or further removed outdoor spaces get the same protection from freestanding patio shades or canopies. Motorized patio covers make it easier to adjust your protection to deal with changing weather conditions or unexpected company.
Awnings For Outdoor Lounge Areas
Most patios and porches are longer than they are wide and nestled in against a wall. This existing support and not-too-wide space make awnings an efficient solution. Since these patio shades are always going to be attached to a building, motorized awnings are some of the easiest outdoor shades to power. A cheaper alternative to awnings is sail shades. These are fabric sheets that you stretch taut and hook onto handrails, walls, or purpose-made support frames. Sail shades are great for covering patios with asymmetrical shapes, though they're often trickier than other styles to adjust. For very large spaces or ones without a nearby building, you'll need to look at freestanding patio shades.
Freestanding Patio Shades And Pop Up Canopies
Awnings can only stretch so far from a building's side. For spaces that are too big across, or too far from a building, you'll need freestanding patio shades with frames and stands of their own. Pergola style and rotating freestanding patio covers are the most common types. If you want motorized patio covers on a detached deck or courtyard in your Sunnyvale home, these are the most suitable options. The other possibility is a popup canopy tent. These are essentially like bigger camping tents, only less enclosed and easier to get in and out of. Patio canopy tents are a little on the cumbersome side, but many of them are mobile. This gives you the freedom to redesign your outdoor space with much less trouble and expense.
Sunnyvale Motorized Patio Covers Installers
Motorized awnings and shades are the new normal for homes and businesses. Thanks to smart controls, home networks, and web applications, you can adjust your motorized patio shades even when you're not at home. This is in addition to the basic benefit of motorized patio shades, which is not having to turn a crank or pull a rope all the time. Who even has the time and energy for that? Lots of people, technically, but if you aren't one of them motorized patio shades can be a lifesaver. Ask our advisors about the best handsets, motors, and software for your motorized patio shades and find the best choice for your Sunnyvale area home or business space.
Free Quotes on All Patio Shades and Covers
Our custom patio covers come with free consultations and quotes. You can choose pergola screens to add shade on the sides or motorized awnings and patio covers to protect you from above. Whatever type of patio shades your Sunnyvale property needs, our professionals can help you pick and choose the features and designs you like best. Give us a call and schedule a free consultation at your convenience.