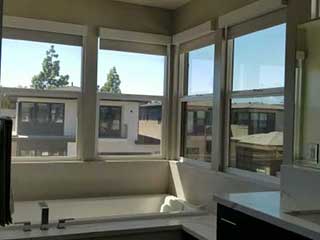 Some well-designed window blinds with remote controls can make home and workplace management much easier. Motorized window treatments come in all styles and structures, from heavy wood or blackout blinds to airy motorized roller shades. Sunnyvale residents get the best value on custom made motorized blinds, including installation and setup. With a free in-person consultation and estimate, you'll have a fun time customization new motorized blinds for your business or home.
Design Your Custom Motorized Blinds
Before Sunnyvale Blinds & Shade takes your order, you can schedule an appointment with our professional consultants for free. They'll advise you on the best motorized window treatments for each window frame, and give you a free estimate. Have some long windows or sliding doors to cover? We'll walk you through our motorized vertical blinds and curtain options. Want some motorized blackout blinds for bed or guest rooms? We have a vast array of colors and textures to pick from for motorized blinds and patio shades.
Make The Smart Blinds Choice
Simple remote controlled blinds are almost antiquated today. When ordering your set, you can choose our advanced smart control systems from Somfy, Lutron, and others. Motorized blinds with a Wi-Fi connection or local home network links are controllable with telephone apps, Alexa systems, and many other interfaces. We can also install sunlight or heat sensors. Connect your motorized blinds to these, and they'll react to Sunnyvale weather and diurnal cycles all on their own! You can save money in the long run with these smart window coverings that never forget to adjust themselves.
Electric Blinds For Sunnyvale Windows
Once we've finished producing your custom motorized blinds, you can take advantage of our installation services. We can deliver your custom made motorized window treatments to any address in the nearby parts of the Bay Area. If your order includes any smart blinds features, our team will take care of programming, security, and remote control setup as well. The only hard part of motorized blinds ownership is the setup, so we make sure to bear the weight ourselves!
Flexible Motorized Blinds And Shades
Window frames with little room to spare can still house some motorized window treatments. If you have a bit of space above the window frame and below the ceiling, try motorized roller shades. We can make these out of some transparent Somfy fabrics, opaque blackout sheets, or even insulating honeycomb sheets. If you have a little more room inside the frame and a little less above it, we'll measure you for our motorized Venetian blinds. These window coverings can stack up against the sides or top of the frame to save room, and spread out to cover the pane while extended. Protective, lightweight, and fully functional!
Motorized Blackout Blinds
This is a broad category, but a useful one. "Blackout" blinds have panels that are impenetrable to sunlight, and which can rotate shut against one another so that there's no space in between. Motorized Venetian blinds, heavy panel blinds, and hybrid systems like sheer shades can all be "blackouts." When combined with automation, blackout blinds are your most reliable protection against sunlight and prying eyes. Combine a set with our Lutron sunlight sensors and timer systems, and you'll never have to worry about protecting that room again!
Sideways Opening Motorized Window Treatments
Most windows are tall and narrow. Because of that, most blinds are made of horizontal panels that slide up and down the frame. If you have a window that's longer than it is tall, or a glass sliding door that needs covering, you'll need vertical blinds. Sideways-opening blinds tend to be heavy, and prone to wear and tear. That's why motorized vertical blinds are such a trouble and cost savers! Nearly all of our motorized blinds are available in vertical as well as horizontal orientation.
Affordable Motorized Window Coverings In Sunnyvale
Remote control blinds are easy to order for local bay area home and business owners. Call Sunnyvale Blinds & Shade today to make a free consultation appointment at your soonest convenience. Let us help you design your perfect custom sets of motorized blinds, and they'll be ready for installation before you know it.