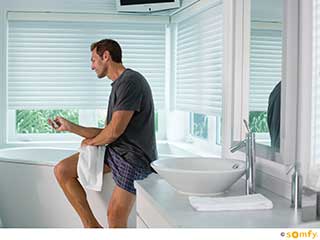 Self-operating blinds and shades are all the rage these days! You can program these to open and close following the time of day, the weather, or the nearby traffic, and you never have to worry about it again. If you need to make an exception to their routine, WiFi controls and home networking let you control them from any distance via a smartphone. With Somfy Sunnyvale blinds experts, you can custom design your own unique set of window treatments. Using our 100% free consultations, you'll get professional advice on aesthetics, structure, and smart systems before committing to anything.
Motorized window Blinds, Shades, & Shutters
Somfy window treatments come in a huge variety of styles and materials. For sturdy window coverage, you can choose rigid panel blinds made of wood, faux-wood composite, or acrylic, among other options. For something airier and more comforting, we can help you choose between roller shades, Roman pleats, or any kind of draperies or curtains. We also customize Somfy blinds for Sunnyvale skylights and other vertical panes.
Somfy Outdoor Shading Solutions
Got a patio or a deck you'd like to keep the sun off of sometimes? Our Sunnyvale installers work with awnings, canopies, and patio shades as well as window treatments. Having a secure canopy lets you enjoy your yard, pool, or porch in any weather. Thanks to Somfy's motorized products, you can also pull them back and enjoy the natural climate at will. Install some sun-proof patio covers to protect your outdoor furniture from bleaching and water damage. For directional protection, pergola canopies and sail shades tailored to your property's geometry have you (literally!) covered.
Sunnyvale Blinds Motorized With Somfy
Arrange a visit from our consultation team. We'll advise you on decoration scheme, prices, and utility, as well as running you through the nuances of automatic hardware and software options. Motorized custom made Somfy blinds and window shades provide a high-tech solution made from quality materials with reliable functions. Get free advice from local Sunnyvale Somfy blinds professionals near your area by arranging a free consultation.