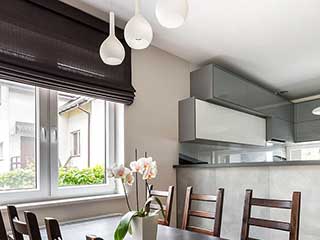 When you're looking for a way to turn your windows or doorways into real artistic statements, Roman shades are your first option. Sunnyvale Blinds & Shade offers custom-designed window shades and treatments of all kinds, including these Roman pleats. We give free estimates on all custom shades and blinds and provide delivery and installation to all areas near Sunnyvale.
What Are Roman-Style Shades?
When you open most window shades, they either flatten together into a solid block or roll up around a spindle. In a set of Roman shades, the fabric sheet is designed to fold up into ripples or pleats as you pull it open. Even when opened all the way, it forms a scalloped, ribbon-like decoration across the upper section of the windowpane. Since they need some space at the top of the window even while open, Roman shades are best used with tall, narrow windows. Roman shades for French doors, or Roman shades on sliding glass doors, are popular for the same reason.
Motorized Blackout Roman Shades
Besides giving your Sunnyvale bedroom an elegant touch, Roman shades can also provide a great deal of utility. With blackout fabrics, for example, they can darken the room and prevent sunlight from entering. That's great for living rooms where you want to watch movies or for bedroom windows that you want to keep early dawn at bay. Our selection of motorized window shade remote controls allows for effortless and smooth operation. Control your Roman shades with the push of a button, with your smartphone, or with self-adjustment sensors. The choice is yours!
Custom Roman Shades For Any Setting
Roman-style coverings work very well with other window treatments, in both aesthetics and utility. Roman shades with curtains and valences are the classic example, but there are many more options. Get Roman shades over some thin solar shades, and you have a decorative heavy layer that opens independently of the airy one beneath. Put some rigid or external blinds under them, and you can even have Roman shades for bathroom windows. Sunnyvale Blinds & Shade offers shades in all colors and patterns, as well as embellishments. Some airy magenta cotton Roman shades for kitchen windows, perhaps? Heavy, lacy-trimmed navy blue shades for bedrooms might tickle you. Relaxed Roman shades that hang down in the middle for a gallery or lounge? The choices are almost endless!
Try Motorized Or Magnetic Roman Shades
Like most other window treatments, Roman shades spent much of history attached to cords or drawstrings. Thanks to modern technology, these unsightly and child endangering strings are no longer necessary! A growing number of Sunnyvale home and business owners are using magnetic window shades. These shades have pairs of magnets along their sides, which will fasten themselves to metal pads attached to the window frame. You can just grab your Roman shades by hand and raise or lower them to the level you want, and the magnets will stick to the nearest pair of pylons! You can also have us installed motorized Roman shades. You can use these systems with remote controls, wall consoles, or computerized timer and sensor devices. Our team can provide all the parts, and set them up for you!
Free Estimates Anywhere In The Sunnyvale Area
Our consultants here at Sunnyvale Blinds & Shade are always happy to give you their professional advice on what color and style of Roman shades suit your business or home. Everything from color to fabric type is up to you, and we can add slits, tails, embroidery, and all other types of extra details. We serve any and all addresses in the Sunnyvale municipal area. Get your custom Roman shades started by giving us a call to schedule a free consultation today!